SOS Call for Proposals now open
The first SOS Call for Proposals is now open, accepting Threatened Species and Rapid Action Grants. Deadline for applications is August 12, 2011.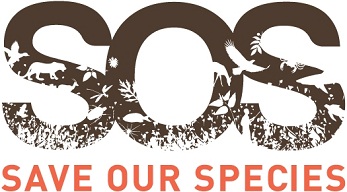 Photo: SOS
SOS (Save Our Species) is a global coalition initiated by the 3 founding partners IUCN, GEF and World Bank to build the biggest species conservation fund, supporting on-the-ground field conservation projects all over the world. Grants will be allocated according to strategic directions identified in consultation with IUCN`s Species Program and Species Survival Commission.
The SOS Strategic Directions currently open for Threatened Species Grants are:
Threatened amphibians
Critically Endangered birds
Threatened Asian and African mammals
 To read more or apply for a grant, click here.
LINKS:
SOS Save Our Species
Topics:
Business engagement,
Ecosystem restoration,
Assessing ecosystems,
Extractive, energy and infrastructure,
Forests,
Marine ecosystems,
Effective protected areas,
Species conservation science,
Species conservation action,
Transboundary water governance and diplomacy,
Nature-based solutions for climate,
Nature and the Paris agreement,
Marine species,
Freshwater species,
Invasive alien species,
Crime, conflict and nature,
Post-2020 biodiversity policy,
World heritage
IUCN units:
Secretariat
Asia
South America
Mexico, Central America and the Caribbean
Washington D.C. Office
Eastern Europe and Central Asia
Mediterranean
Eastern and Southern Africa
West and Central Africa
West Asia
Oceania
Business and Biodiversity
Ecosystem Management
Forests
Marine and Polar
Membership
Protected Areas
Species
Water
Cactus and Succulent SG
Crop Wild Relative SG
Cycad SG
Medicinal Plant SG
Mediterranean Island Plant SG
African Elephant SG
Antelope - North East Africa SG
Asian Elephant SG
Asian Wild Cattle SG
Canid SG
Equid SG
Pig, Peccary, and Hippo SG
Small Carnivore SG
South American Camelid SG
Odonata SG
Flamingo SG
Sustainable Use SG
Herons SG
Molluscs SG
Marine SG
Antelope SG
Storks, Ibises & Spoonbills SG
China
Iguana SG
Freshwater Fish SG
Sturgeon SG
Palm SG
Wildlife trade & use SG
Grouper and Wrasse SG
Seasnake SG
World Heritage
Stay informed
Sign up for an IUCN newsletter