Chinese Civil Society launches wildlife-free e-commerce initiative to conserve biodiversity and safeguard public health
CEESP News: by Jinfeng Zhou, Linda Wong, Charlotte Hong, China Biodiversity Conservation and Green Development Foundation*
Emergent e-commerce benefits peoples daily lives in numerous ways, but it has also made illegal wildlife trade easy and convenient. During COVID-19, Chinese civil society established a wildlife-free e-commerce initiative to fight against illegal online wildlife trade and have achieved fruitful results. More efforts from e-commerce and long-term national mechanisms are needed to end wildlife cybercrime.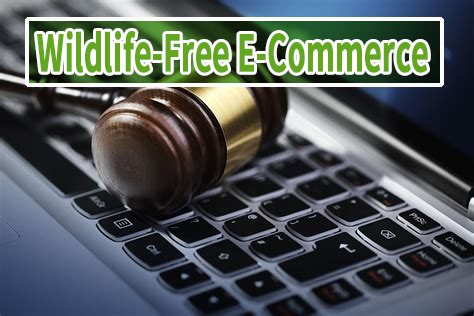 Photo: CBCGDF
Photo: WFEC volunteers
Photo: Terry Townshend
Photo: Screenshot by CBCGDF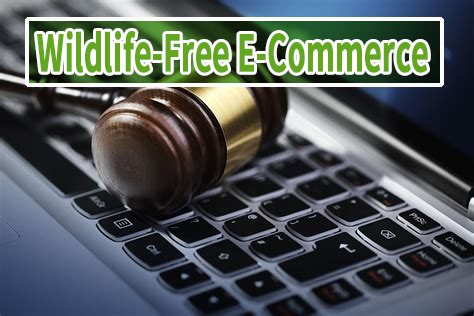 Wildlife-free E-commerce Initiative launched amid COVID-19 by Chinese NGOs
The rise of e-commerce has made illegal wildlife trade online more hidden and more difficult to track and monitor. It is an important factor leading to the rapid loss of biodiversity. It is with the ambition to fight against all illegal wildlife trade (IWT) online that China Biodiversity Conservation and Green Development Foundation (CBCGDF) made several moves in the past four years.
During the COVID-19 epidemic this February, CBCGDF worked with several other grassroots NGOs and volunteers and co-launched the Wildlife-Free E-Commerce Initiative (WFEC) to combat online illegal trades concerning wildlife and hunting tools. [i]Until now, the WFEC network has been monitoring IWT on E-Commerce platforms, fighting against industrial jargon with wit. It expects E-Commerce platforms to step up their crackdown measures against any possible damage to biodiversity.
For a long time, IWT has threatened ecosystem security and public health to humans. Internet platforms can play a critical role in combating IWT - or being a strong force helping its growth. However, due to lack of awareness and knowledge, there are still large markets due to public demand for wild animals and products. The coronavirus outbreak brings a unique opportunity to educate people to care about wildlife and nature.
Photo: WFEC volunteers
Some wildlife products sold on various e-commerce platforms. Picture by WFEC volunteers 
Over the past few months, the volunteers have been closely examining popular Internet platforms, such as TaoBao, JD, Suning, Pinduoduo, WeChat, TikTok, etc., to search for any wildlife product or information encouraging people to hunt or eat wildlife. When they find anything improper, WFEC sends letters urging those platforms to remove such illegal products or information.
Photo: Screenshot by CBCGDF
Some links for selling wildlife, which these cyber-hunters found in late February on E-Commerce platforms, are no longer working, indicating the removal of such products by platforms. For example, the Initiative has successfully urged Taobao to filter products related to pangolin and Tokay gecko.
In short-video streaming platforms such as TikTok and Xigua, volunteers found videos teaching people how to hunt wild birds and other wild animals. After receiving requests by WFEC, Xigua responded with great concern and expressed its willingness to investigate such contents.
A pangolin-related healthcare product sold on Taobao.com. Screenshot by CBCGDF
Although the WFEC Initiative has made steady progress in fighting against IWT online, there are also some "shadow" or underground trades hard to detect. Today's e-commerce platforms usually have rules to prohibit sales of illegal wildlife products, but enforcement falls short. And, as a Chinese proverb goes "there are policies on the top, and countermeasures on the bottom," WFEC found some "slang" used by rulebreakers when combing the clues every day. For example, vendors may upload a product with an elephant icon to the e-shop, along with the words "non-material", "jelly-material" and the like. In the field of wildlife products, these two seemingly inexplicable expressions refer to some kind of ivory products. These metaphors make it difficult for the platforms to identify some violations.
Photo: Terry Townshend

In the past three months, WFEC encountered both cooperative platforms and indifferent ones. For instance, its repeated appeals to Taobao urging the removal of bird-hunting tools and mist nets do not receive any response. Those readily available hunting tools cause tens of millions of birds to die in fields, especially in the spring. There is e-commerce that focuses only on revenue, not willing to shoulder the responsibilities of conserving biodiversity. Wildlife-related transactions on such platforms can be easily done.
Countless birds die from mist nets every year. Such hunting tools are widly available on E-commerce platforms at very cheap price. Photo credit to Terry Townshend
The CBCGDF has clearly stated that a long-term mechanism is urgently necessary to stop online wildlife crimes. Such mechanism should include strict rule of law for all forms of e-biz, punishments for rulebreakers, effective measures to identify possible violations and a life-long credit system for multi-stakeholders involved, in which one's credits will be deducted if participating in IWT.
The conservation group calls for China's Wildlife Protection Law to shift from protecting small-numbered rare and endangered species to protecting the whole spectrum of biodiversity. Only with such measures being implemented nationwide can China's Ecological Civilization, envisioning a "Harmonious Co-existence of Human and Nature," be achieved.
[Reference]
Zhou Keji. Zhou Jinfeng. Cyber world now has "Wildlife Protection Special Agents" [N]. People's Daily. March 10, 2020
Zhou Jinfeng. Following the way of getting along with nature [N]. People's daily. May 12, 2020
Linda Wong. Zhou Jinfeng. To entitle consumers with Green Consumption Rights [J]. Chinese Civil Entrepreneur, March 2018
Yan Yang, Linda Wong. The establishment of China's Biodiversity Conservation Law is necessary to promote the construction of ecological civilization [J]. Greenleaf, 2017 (4): 49-55
* The China Biodiversity Conservation and Green Development Foundation (CBCGDF) is a member of the IUCN, a partner to the Convention on Migratory Species (UNEP/CMS), a member of the Global Genome Biodiversity Network (GGBN), an observer to The International Treaty on Plant Genetic Resources for Food and Agriculture (ITPGRFA) , an observer to the Convention on International Trade in Endangered Species of Wild Fauna and Flora (CITES) , a data publisher to the Global Biodiversity Information Facility (GBIF), an accredited organization to UN Environment, a member of CITES' Standing Committee's Intersessional Working Groups, an accredited observer of United Nation's Intergovernmental Science-Policy Platform on Biodiversity and Ecosystem Services (IPBES), a member of the Belt and Road Life Science Economy Alliance (LSEA), and a member of the Global Compact. 
Main working areas of the CBCGDF include: (1) Biodiversity conservation; (2) Community Conservation Areas (CCAfa); (3) Environmental Governance and Environmental Public Interest Litigations (EPIL); (4) Volunteers; (5) Promotion of the United Nation's Sustainable Development Goals; (5) Culture-based and Faith-based Conservation, featured by indigenous people and communities' participation; (6) Green Lifestyles; (7) Reduce & Pick-up Plastics Initiative; (8) Climate Change; (9) Good Food (plant-priority) (10) Fighting Illeagl Wildlife Trade; (11) Green Youth Network and Green Children Educational Bases; (12) Recycle & Repurpose Used Clothing Initiative; (13) Ecological-friendly Belts & Roads Initiative (EBRs) ; (14) Wilderness; Connectivity; (15) Sustainable livelihood; (16) Clean and biodiversity-friendly energy; (17) Policy Advisory & Think-tank; etc.