The 12-year-old Belizean girl who spoke up at the World Heritage Committee meeting – interview
"I respectfully encourage the representatives of each country present to think of my generation in decision-making regarding World Heritage sites – our barrier reef and our planet depend on it." Thus did Madison Pearl Edwards address the delegates gathered at UNESCO's 42nd World Heritage Committee meeting.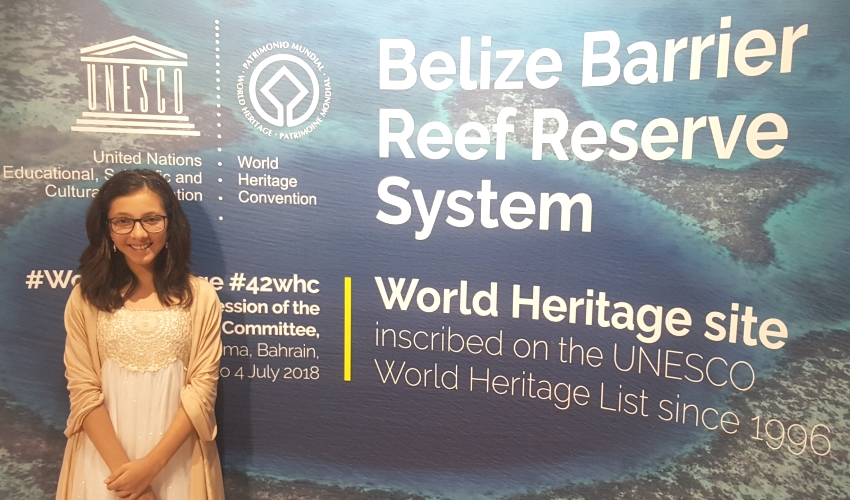 Photo: IUCN / Angela Jones
Madison Pearl made the trip from Belize to Bahrain to express her deep care for the Belize Barrier Reef System – the second largest reef on Earth – from which she lives just a swim away. The site was removed from the List of World Heritage in Danger last week, after Belize banned oil drilling in its entire marine territories and reinforced mangrove protection. IUCN caught up with this brave and inspiring 12-year-old Belizean girl in the corridors of the UNESCO meeting.
 
What is it that you love most about the Belize Barrier Reef system?
Well, when I went on my snorkel trip of the Belize Barrier Reef I saw so many different things, it was an amazing experience and I got to learn so much on how much we depend on it. I love how much it means to us and how much it represents our culture and our lifestyle.
How does it make you feel then that the Reef system has actually been removed from the World Heritage List in Danger?
It makes me feel me feel very proud, and very proud of Belize because this has been an amazing experience and a very long journey, and I'm pretty sure that Belize is incredibly proud of everything that we've all done to fight for this moment, and I'm just really happy and excited.
What do you think this may change for your generation?
I think that it changes everything. I mean, my parents and generations behind me got to experience such a beautiful planet, and I want me and my generation to be able to do the same. So I think that this is just a really good moment.
What do you think you may even tell your grandchildren about this moment?
I may tell them, hey your grandma fought really hard for this, and her country was really cool, so thank them.
Obviously, you think it's a good thing then that Belize has banned oil… can you tell us why?
Well when I first found out that they were trying to do seismic testing, I was shocked that people would risk all of our heritage sites and our beauty of the Belize Barrier Reef. I'm just very glad that they didn't let that happen, because I don't know where we would be now.
You can look back at Madison's intervention during the World Heritage Committee meeting, courtesy of UNESCO.  
Interview by Angela Jones, who joined the IUCN delegation from the University of BTU Cottbus.