Tangled roots and changing tides: law at the service of mangrove conservation and sustainable use
A pioneering global study details the legal and institutional frameworks governing mangroves and proposes solutions to address gaps and weaknesses identified.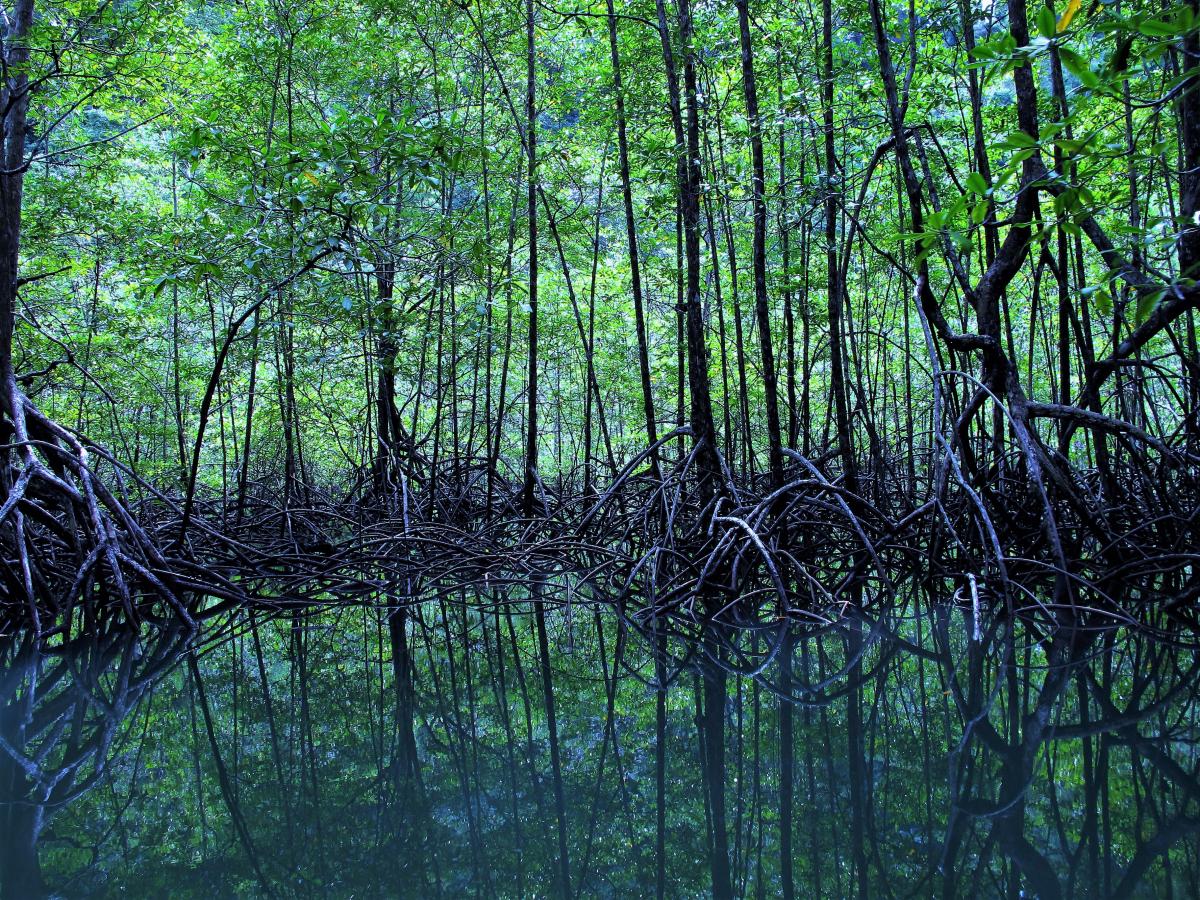 Photo: The main mangrove forest (mainly Rhizophora racemosa) at Rio Sierpe, Costa Rica
Photo: © Antonio Busiello/WWF-US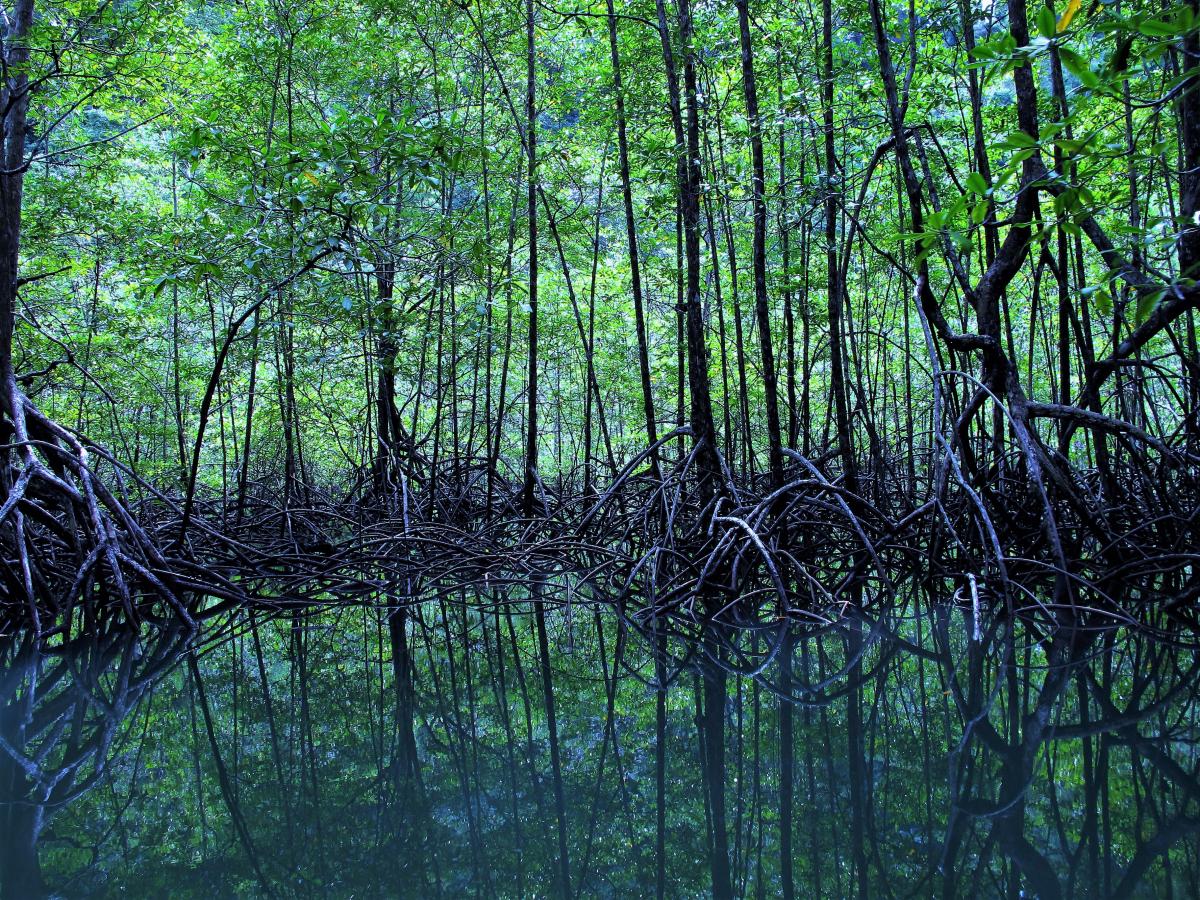 Within the last few decades, scientists have raised the alarm on the continuous loss of mangrove forests. It is estimated that between 1980 and 2000, 35% of mangroves worldwide disappeared. This trend has not reversed and mangroves continue to face dramatic losses which is all the more alarming because mangroves provide essential services. For instance, they play a crucial role as coastal protection and carbon sinks in the battle against climate change, thanks to their location between land and sea and their high carbon storage capacity, 3-5 times higher than that of upland tropical forests. They also provide habitat to support fisheries, as well as fuel and construction material, fundamental to the livelihoods of over 120 million people living in coastal communities across the globe.
To address these challenges, Save Our Mangroves Now!, an initiative by the German Federal Ministry for Economic Cooperation and Development (BMZ), WWF and IUCN, through its Environmental Law Centre, worked with lawyers from seven countries to develop a comprehensive study detailing the legal and institutional frameworks affecting mangroves, and their impact on stakeholders' behaviour and the natural environment. The study draws on detailed governance assessments in Costa Rica, Vietnam, Madagascar, Pakistan, Kenya, Tanzania and Mozambique, as well as legislative reviews in Mexico and India, as wells as a global desk study. It goes beyond legal analysis to include social, political, economic and scientific information from surveys and interviews with government officials, community members, scientists, lawyers and civil society. Additionally, the study was enriched by workshops conducted in four countries of the Western Indian Ocean region: Kenya, Tanzania, Mozambique and Madagascar.
Due to the position of mangroves at the intersection of land and water, the legal framework governing mangroves is highly fragmented. It is only on rare occasions that legislation specially dedicated to mangrove management exists.
On most occasions, mangroves are indirectly defined and governed by forest, fisheries, wetlands laws or other legal tools focused on specific areas. These provisions can be adequate but the study shows they must be harmonized and their application to mangroves clarified for the legal framework to be effective. This situation can create confusion at the institutional level as several institutions with overlapping mandates may be responsible for mangroves, but lack capacity and coordination, leading to mismanagement and lack of implementation.
In the vast majority of cases, mangroves cannot be privately owned by households or communities, but decisions relating to this ecosystem deeply affects their livelihoods. For example, when local communities rely on the cutting of mangrove trees for fuel or construction poles, a general ban on mangrove logging or use can deprive them of their main source of subsistence, thus, generating conflict. In the absence of alternative livelihoods, such provisions are close to impossible to enforce. It is therefore important to consult and engage local communities.
Numerous studies and experiences demonstrate the potential of co-management mechanisms where local communities are involved in management activities and benefit from the sustainable use of natural resources, such as mangroves. However, setting up these mechanisms requires certain enabling conditions to be in place.
The results of this study generated ten recommendations for policymakers to improve mangrove management and governance and suggests tools to implement these proposals. The study found that successful mangrove governance depends on:
Institutional capacity to ensure legal enforcement;
Proper communication and coordination between the different agencies in charge;
The level of engagement and involvement of other stakeholders such as local communities, the private sector and the general public;
Ensuring accountability and public participation in decision making on investment, development, resource management and conservation, and
Decisions based on science and accurate data.
These findings will be disseminated to decision makers and the public in order to enlighten decisions, strategies and actions. Meanwhile, Save Our Mangroves Now! will continue to promote and support ambitious and effective policies and commitments at the national and international levels to enable conservation of mangroves, one of our planet's most valuable and threatened resources.
Download the executive summary and the full study here
For more information contact Lea Badoz Lea.Badoz@iucn.org or Lydia Slobodian Lydia.Slobodian@iucn.org