Waste water treatment: new opportunities in Ha Long Bay
Since the Ha Long-Cat Ba Alliance was formed in 2014, IUCN has persistently advocated for the government to take measures to reduce the discharge of untreated water by the 500 or so cruise boats that operate in the Ha Long Bay WHS.  Only about 20 boats are large and modern enough to have on-board waste water treatment systems.  The rest discharge an estimated 500 m3/day of untreated water into the bay.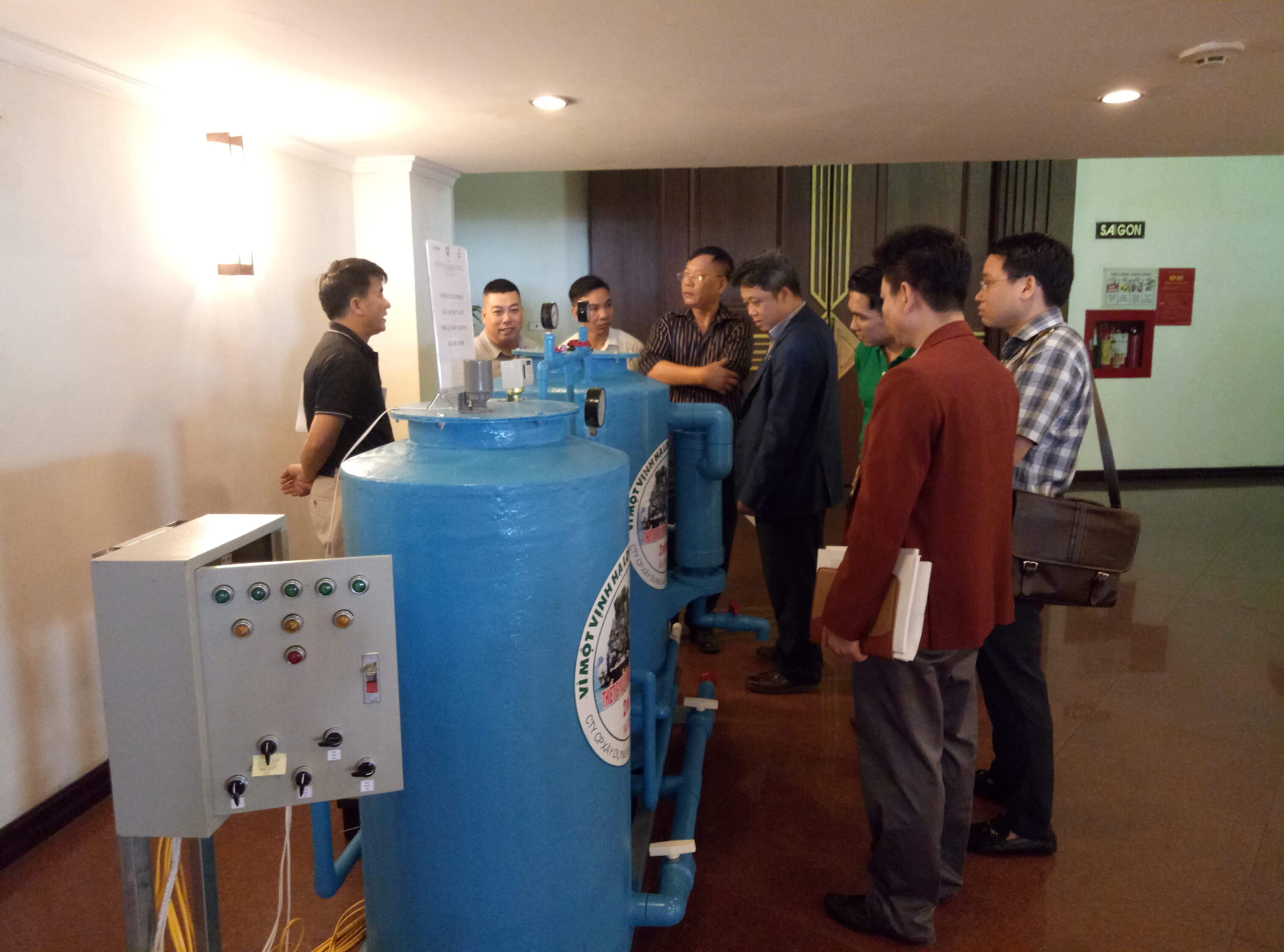 Photo: waste water treatment model for boats by Quang Ninh Construction and Environmental Engineering Company © IUCN Viet Nam
Photo: Jake Brunner - Head IUCN Indo Burma Group discussed at the workshop © IUCN Viet Nam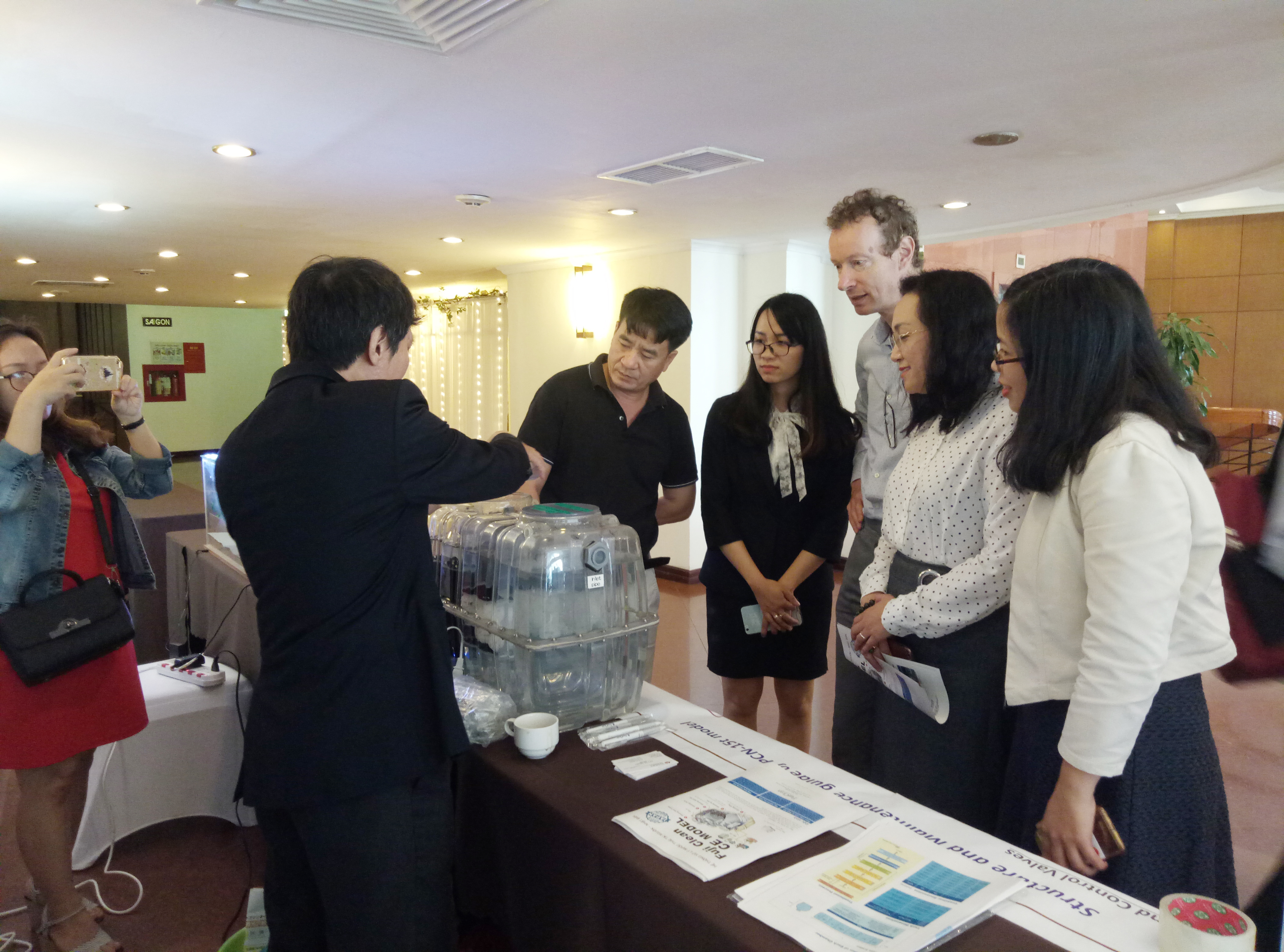 Photo: Ms. Huyen Anh - Deputy Director of HLBMB visited Fuji Clean Technology/Nomura displayed at workshop © IUCN Viet Nam
Photo: A boat sample with allocation of waste waster treatment facility at the workshop © IUCN Viet Nam
Photo: All participants participated at the workshop © IUCN Viet Nam
Photo: Participants visited displayed areas at the workshop © IUCN Viet Nam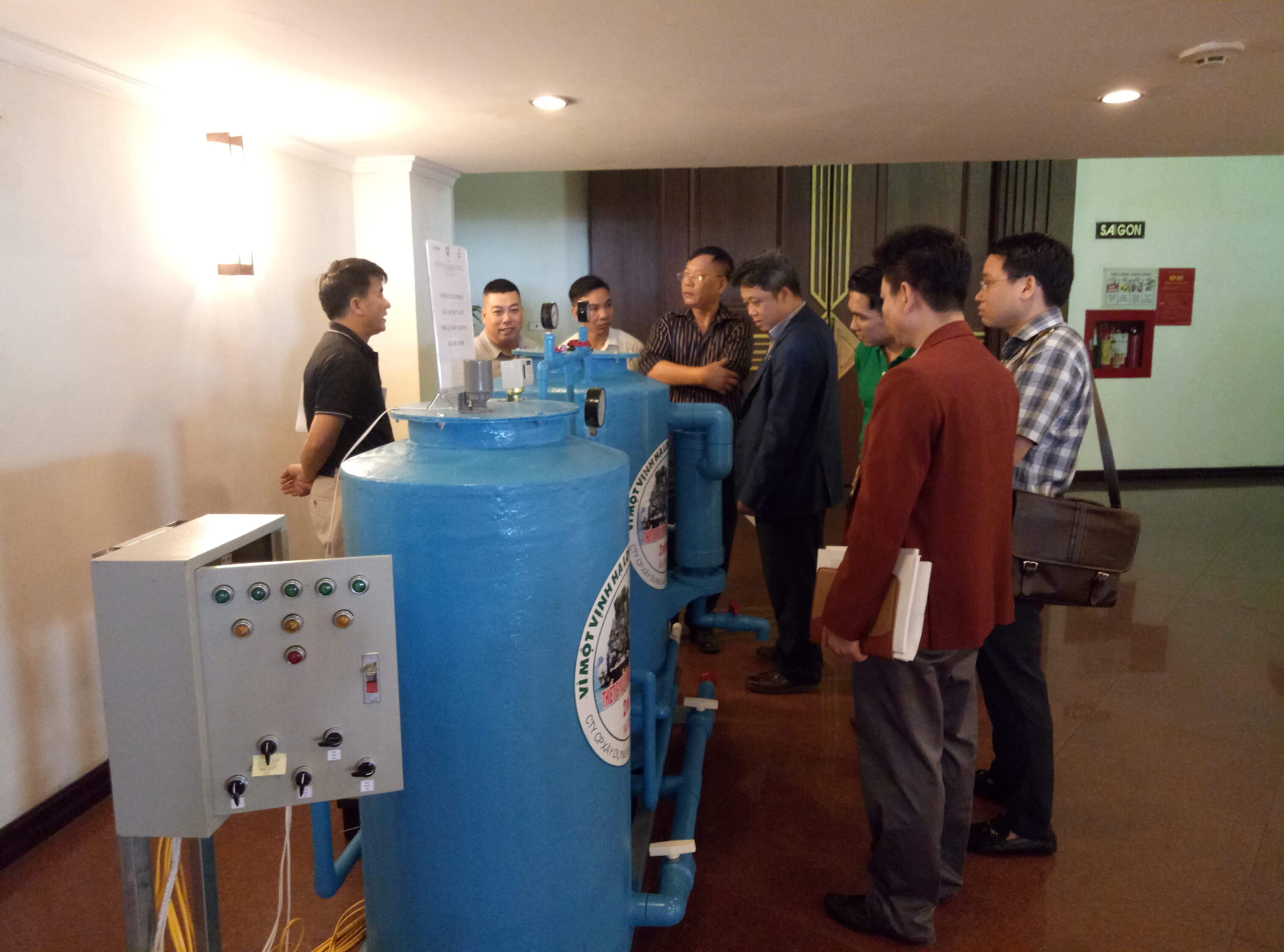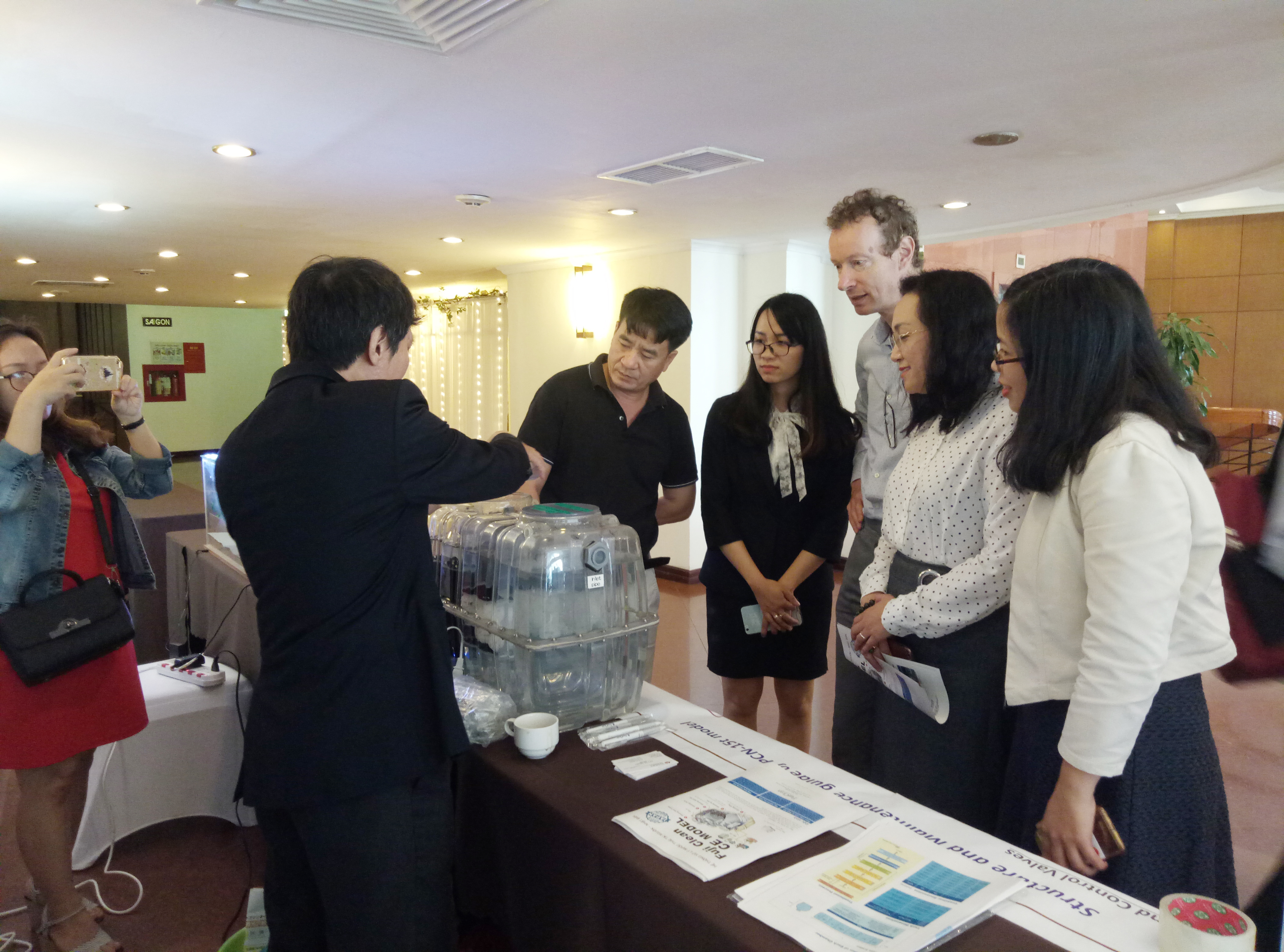 We focused on this source of pollution because the Quang Ninh provincial government was already investing in urban and industrial waste water treatment systems. 
The water pollution problem in Ha Long Bay is part of a broader problem.  Generally speaking, Vietnam has done a good job with water supply; piped drinking water is available in almost all towns and cities.  But Vietnam has done a bad job with waste water treatment.  The 2018 World Bank report Vietnam: Toward a Safe, Clean, and Resilient Water System includes the following recommendation:
Give the highest policy priority to reducing the devastating levels of pollution
Risks from water pollution are becoming extreme, with impacts on human health, the economy, and the environment a massive threat that could cost nearly 6% of GDP by 2035 if nothing changes. Infrastructure, incentives, and regulation must be top priorities and the focus of a massive national effort and investment push.
What we see in the bay is microcosm of the national picture with adequate legislation underlined by weak enforcement.  In 2015, Quang Ninh issued a regulation requiring all cruise boats to use designated waste water treatment systems.  But no such systems exist.  Consequently, there is no enforcement.  And as tourists write increasingly negative comments about environmental conditions in the bay, there is a real prospect of reduced visitation, especially by high paying western tourists, damaging the local economy. 
Fortunately, after almost five years of advocacy, we see change.  It appears that the decisive event was an mission to the bay that IUCN in July 2018 organized at the request of Quang Ninh to advise on tourism management and environmental pollution.  In January 2019, the Ha Long Bay Management Board wrote to all boat owners that they must not discharge untreated water into the bay and if they have no on-board facilities they must sign contracts with waste water treatment companies. 
In February 2019, the province issued a decision that all port owners have to provide waste water treatment services for all boats and if they are unable to do so they have to sign contracts with service providers. 
In April 2019, in response to this decision, Ha Long City assigned its Public Service Department to provide waste water collection and treatment services using the LICOGI facility nearby.  Waste water would be transferred by boat from the cruise boats to the LICOGI facility.
The deadline for these requirements is end of April and if boat owners are not in compliance, the management board will suspend their contract to provide tourist services in the bay.  This approach of stopping operations rather than issuing fines is critical because across Vietnam many businesses prefer to pay fines rather than investment in pollution control. 
This was the context for a workshop on waste water treatment technology that IUCN and the Ha Long Bay Management Board organized in Ha Long on April 5, 2019.  The workshop was an opportunity for six Vietnamese and international companies to demonstrate the suitability of their technology to address water pollution from cruise boats.  The good news that there is a range of made in Vietnam solutions for treating waste water on-board and indeed several boats have already installed these on a voluntary basis.  Affordability shouldn't be an issue: the cheapest systems, which are specially designed for small boats, cost only $2,000 to buy and eight hours to install. 
Photo: MET water treatment technology displayed at the workshop © IUCN Viet Nam
As old wooden boats get gradually replaced with new metal ones, it will become easier to install the hardware.  The key unknown is how much LICOGI will charge for collecting and treating waste water.  If it applies the expected fee of cost of $50/m3, we expect to see a surge of interest in low-cost solutions.  But this all depends on the government enforcing its recent decisions.  If they do, there should be boom in business activity to meet the demand, generating more jobs and revenue.
One way for government to reinforce its regulations is by doing what the Baltic, Australia's Great Barrier Reef, the Rhine, and the Alaska have done, which is to designate Ha Long Bay and Cat Ba Archipelago as a Special Area requiring the highest standards of waste water management under Annex IV on Regulations for the Prevention of Pollution by Sewage from Ships of the International Convention for the Prevention of Pollution from Ships, to which Vietnam is signatory. 
Adhering to Annex IV would not only make the Quang Ninh and Hai Phong governments pioneers in Asia but would send a clear signal to the international community that Vietnam is serious about pollution control.  This is recurring theme from visitors: they would love to return but only after the bay has been cleaned up.