New toolkit helps development practitioners integrate gender into sustainable coastal resource management in Asia
In celebration of International Women's Day on March 8, IUCN, through its Mangroves for the Future programme, in collaboration with the Southeast Asian Fisheries Development Center (SEAFDEC) and Stockholm Environment Institute (SEI), have launched a Gender Analysis Toolkit (GAT) to improve gender integration and mainstreaming in coastal resource management programmes in South and Southeast Asia.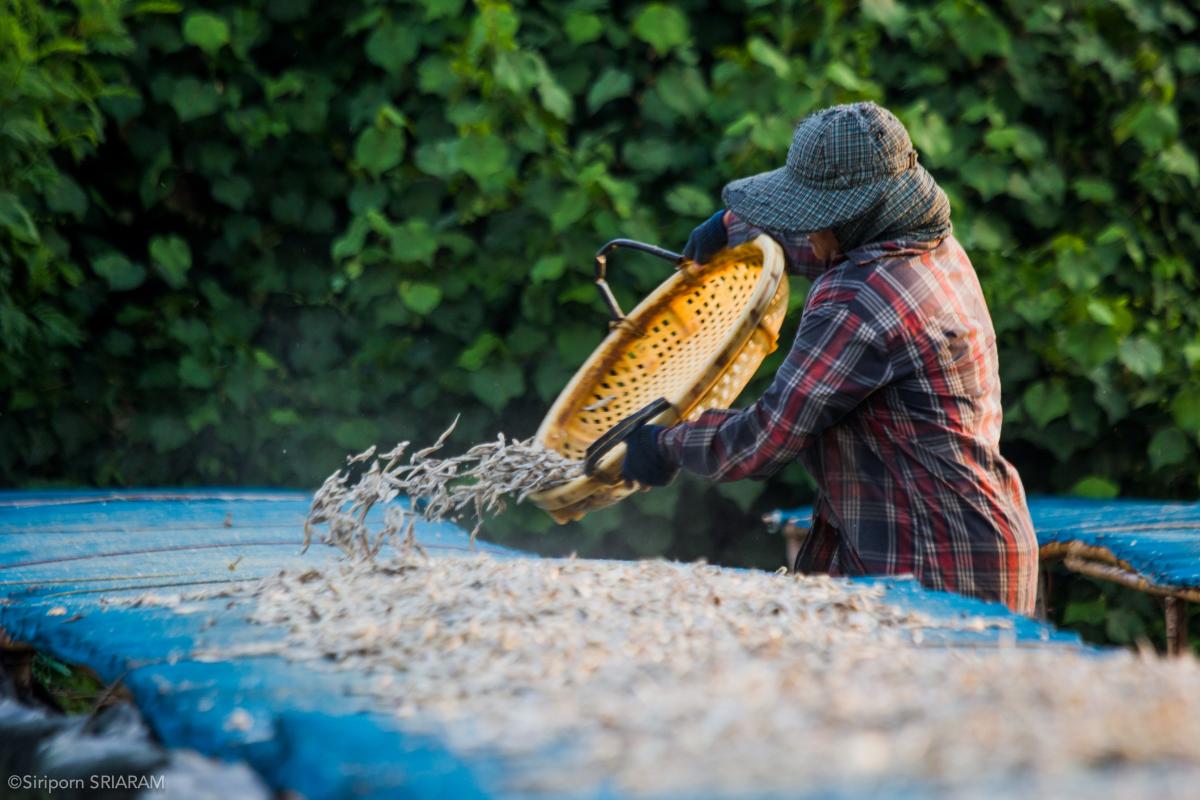 Photo: Siriporn Sriaram, IUCN Thailand
The toolkit aims to help coastal and fisheries management practitioners, such as programme officers and technical advisors from development and environmental agencies, develop baseline knowledge around gender dimensions related to coastal and natural resources use, livelihoods development and ecosystems management. This knowledge can help identify gender gaps and advance gender-integrated and gender responsive planning for improved resilience of coastal ecosystems and the communities that depend on them. The toolkit also provides direction around key instruments, concepts and themes for qualitative gender analysis in coastal ecosystem-dependent communities. 
 The toolkit is an iterative development process meant to be revisited and revised to reflect new circumstances and emergent learning at different stages, and from sites where the analysis is conducted.
"As gender norms, roles and dynamics are not static and do not exist in discrete terms, the tools we use should be able to capture and reflect social changes as they happen," said Maeve Nightingale, Senior Programme Officer, Coastal and Marine Programme, IUCN Asia.
Photo: IUCN
The GAT is one of the main outputs of a MFF-SEAFDEC-SEI regional gender study, funded by the Swedish International Development Cooperation Agency (SIDA). The study explored gender patterns in coastal and marine resources management, with the aim of improving overall understanding about the state of women and men in environmental decision-making. The study also identified the main challenges preventing equitable opportunities for men and women in the coastal fisheries and coastal resource management sectors.
The study, along with a resulting synthesis report contributes to strengthening our collective understanding and commitment towards achieving gender equality as a core part of coastal and marine resource management and the Sustainable Development Goals (SDGs), in particular, SDG 5 and SDG 14.
The GAT was tested and improved throughout the study.
Gender analysis is a way of understanding how perceptions of gender in terms of norms and values, gender roles, and identities and gendered power relations among and within social groups are produced and reproduced within the processes of social change. The continuity perspective is paramount to gender analysis as it explains the dynamic character of gender identities and relations embedded in both structural and contingent processes.
This year's theme for International Women's Day is "Better the balance, better the world".
''Sustainable development in South and Southeast Asia cannot be achieved without the talent, knowledge and experience of half the population caring for marine and coastal resources at all levels of decision-making: at regional, national and community scales. However, biases and social-gender norms have constrained humanity from being more inclusive,'' said Bernadette P. Resurrección, Head of the Gender Team, SEI Asia.  
Across the world, women and men have unique relationships with, and expertise, about their environment. Poor understanding of the roles and contributions that both genders bring to environmental management often leads to a lack of recognition of their distinct needs and interests in policies and programmes. Understanding the importance of this can ultimately help in meeting sustainable development goals in ecosystem-dependent communities. The GAT will bring to light areas of inequality, paving the way for more gender-balanced responses and outcomes. 
The Gender Analysis Toolkit can be downloaded here:
http://www.mangrovesforthefuture.org/knowledge-hub/e-library/?documentId=19157
The Regional Gender Synthesis can be downloaded here:
http://www.mangrovesforthefuture.org/knowledge-hub/e-library/?documentId=19156
About Mangroves for the Future (MFF)
MFF is a partnership-based regional initiative which promotes investment in coastal ecosystem conservation for sustainable development. MFF focuses on the role that healthy, well-managed coastal ecosystems play in building the resilience of ecosystem-dependent coastal communities in Bangladesh, Cambodia, India, Indonesia, Maldives, Myanmar, Pakistan, Seychelles, Sri Lanka, Thailand and Vietnam. The initiative uses mangroves as a flagship ecosystem, but MFF is inclusive of all types of coastal ecosystems, such as coral reefs, estuaries, lagoons, sandy beaches, sea grasses and wetlands. MFF is co-chaired by IUCN and UNDP and is funded by Sida, Norad, Danida and the Royal Norwegian Embassy in Thailand.
About Stockholm Environment Institute (SEI)
Stockholm Environment Institute is an international non-profit research and policy organization that tackles environment and development challenges. We connect science and decision-making to develop solutions for a sustainable future for all. Our approach is highly collaborative and stakeholder involvement is at the heart of our efforts to build capacity, strengthen institutions, and equip partners for the long-term. Our work spans climate, water, air, and land use issues, and integrates evidence and perspectives on governance, the economy, gender and human health. Across our eight centres in Europe, Asia, Africa and the Americas, we engage with policy processes, development action and business practices throughout the world.
About Southeast Asian Fisheries Development Center (SEAFDEC)
The Southeast Asian Fisheries Development Center is an autonomous intergovernmental body established in 1967. The mission of SEAFDEC considered and adopted by the Special Meeting of the SEAFDEC Council 2017 is "To promote and facilitate concerted actions among the Member Countries to ensure the sustainability of fisheries and aquaculture in Southeast Asia." SEAFDEC comprises 11 Member Countries: Brunei Darussalam, Cambodia, Indonesia, Japan, Lao PDR, Malaysia, Myanmar, Philippines, Singapore, Thailand, and Vietnam. The Center operates through a Secretariat located in Thailand and has five Technical Departments, namely the Training Department, the Marine Fisheries Research Department, the Aquaculture Department, the Marine Fishery Resources Development and Management Department, and the Inland Fishery Resources Development and Management Department.