Press release
| 26 Jul, 2023
Extraordinary action for protected areas recognised by International Ranger Awards
Gland, Switzerland, 26 July 2023 (IUCN) – Nine rangers and ranger teams have received the 2023 IUCN World Commission on Protected Areas (WCPA) International Ranger Awards. The awards recognise the outstanding work of protected areas rangers around the world, celebrating the dedication and bravery of people who protect and conserve natural heritage.
Photo: Global Conservation Corps
Photo: ProAves Colombia photographic registry
Photo: Berihun Tadele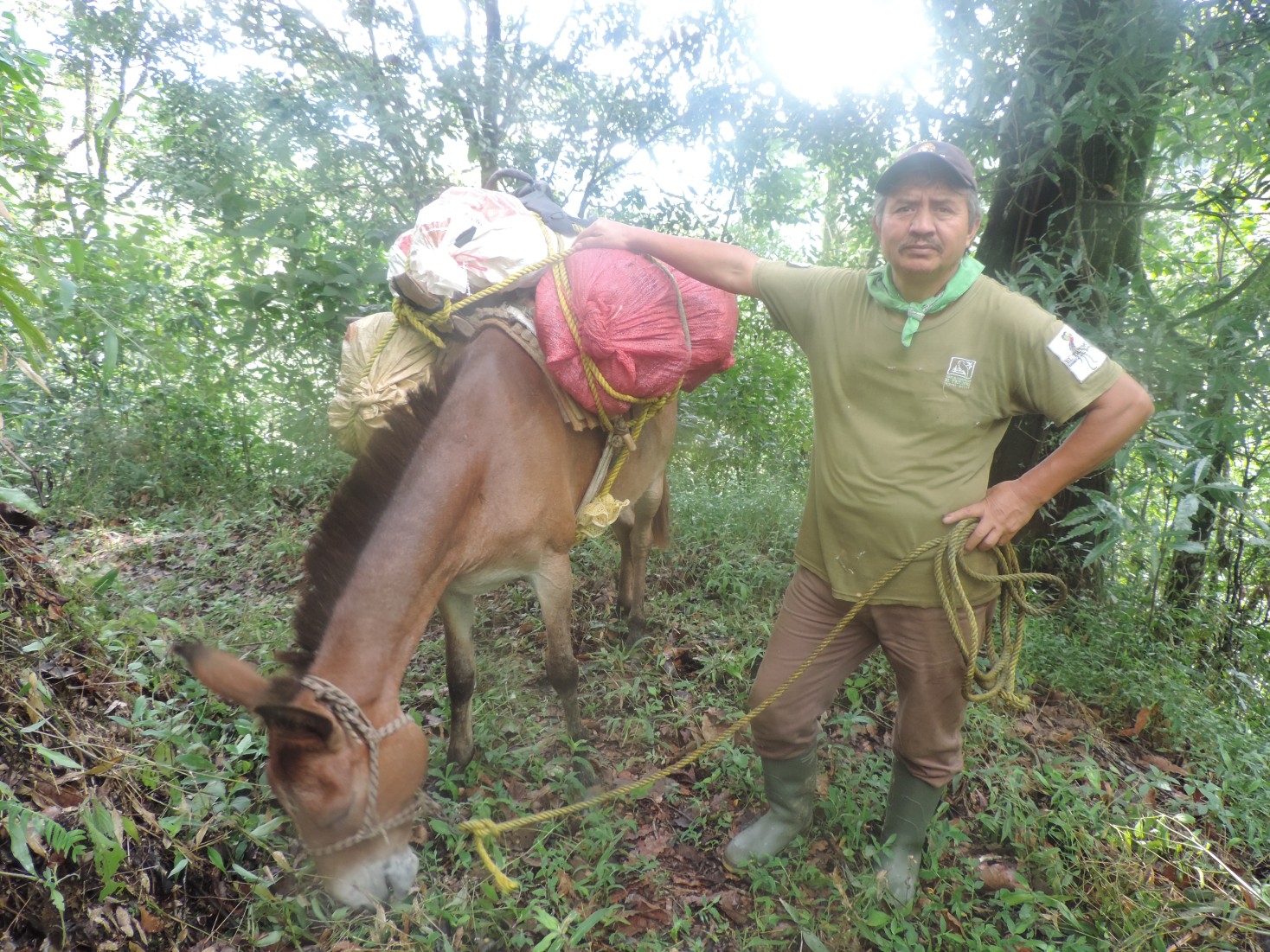 Photo: CONANP-REBITRI
Photo: Josangela Jesus
Photo: Naveendran Jayabalan
Photo: Kateryna Hankina
Photo: Sarpang IRA Team
Photo: Tubbataha Rangers Group
Five individual rangers and four ranger teams received awards, in a virtual award ceremony bringing together ranger champions and supporters from around the world. The winners work across Bhutan, Brazil, Colombia, Ethiopia, Malaysia, Mexico, Philippines, South Africa and Ukraine. Each winner or winning team receives awards ranging from US$10,000 to US$25,000 to support the protected and conserved areas where they work, and a custom uniform patch to signify their achievement.
"The winners of the 2023 IUCN WCPA International Ranger Awards have been recognised for their extraordinary achievements; the judges were astonished and moved by their stories. The winners are also ambassadors for the 286,000 dedicated women and men in the global family of rangers, whose service on our behalves should not be taken for granted," said Mr Michael Appleton, Vice Chair of the IUCN WCPA Capacity Development Thematic Group and Director of Protected Area Management at Re:wild.
These prizes express recognition by the International Rangers Awards partners: the International Ranger Federation, Universal Ranger Support Alliance, Conservation Allies, Re:wild and the Global Tiger Initiative.
For more information or to set up interviews, please contact:
Harriet Brooker, IUCN Media Relations, Mobile: +44 7960 241862, press@iucn.org
Notes to editors
The winners of the 2023 IUCN-WCPA International Ranger Awards are:
Anton Mzimba, Timbavati Private Nature Reserve, South Africa
Cristian Andrés Vásquez Bermúdez, Reserva Proaves El Dorado, Colombia
Fetiya Ousman, Babile Elephant Sanctuary, Ethiopia
Ismael Gálvez Gálvez, El Triunfo Biosphere Reserve, Mexico
Maria Bernadete Silva Barbosa, Brazil 
Biological Corridor 3 Ranger Team (10 members), Bhutan
Royal Belum State Park 'Menraq' Team (5 members), Malaysia
Desniansko-Starohutskyi National Nature Park Ranger Team (9 members), Ukraine
Tubbataha Reefs Natural Park Ranger Team (4 members), Philippines
Anton Mzimba - Awarded in recognition of an exemplary career as a ranger and inspirational leader.
Over 25 years, Anton Mzimba rose through the ranks to become Head of Ranger Services at Timbavati. His career was marked by selfless dedication, courage in the face of threats and danger, and loyalty to his team and the protected area. His perseverance, leadership and commitment to finding lasting solutions to the threats to the area have attracted international acclaim, and his personal story has inspired the next generation of Indigenous conservationists to follow in his footsteps.
The tragic murder of Anton Mzimba in July 2022 shocked the world. His legacy lives on among all those he inspired, and in the places and with the animals he loved.
Cristián Andrés Vásquez Bermúdez - Awarded for perseverance, leadership and achievement in researching and conserving one of the most biodiverse places on earth.
Coming from humble beginnings and overcoming extreme challenges, Cristián Andrés Vásquez Bermúdez has risen to become head ranger of El Dorado Bird Reserve. With his small team, he has endured threats to his life, while successfully tackling poaching, encroachment and forest fires in one of the most biodiverse and irreplaceable places on earth. As a self-taught expert naturalist, he is instrumental in saving numerous species from extinction and to discovering new and lost species.
Cristián shares his passion and care with the local community, working with local children and community members to share the wonders of nature and the fruits of his team's work.
Fetiya Ousman - Awarded for outstanding resoluteness and leadership, as a head ranger and a pioneer for gender equality.
Fetiya Ousman effectively and successfully leads a team of 60 rangers addressing poaching, encroachment and human wildlife conflict in Babile Elephant Sanctuary; until recently she was the only female member of the team. She has overcome cultural and personal challenges throughout her career and has brought new approaches to peaceably addressing the threats faced by the Sanctuary.
Her quick wit, attention to detail and loyalty to the office have endeared her to her colleagues, and her skilled, powerful communication and fight for gender equality have inspired more female rangers to join the team from the community.
Ismael Gálvez Gálvez - Awarded in recognition of more than 40 years' service as a ranger dedicated to protecting a unique ecosystem and promoting mutual trust between local inhabitants and park rangers.
A local community member, Ismael Gálvez Gálvez was the first ranger appointed to El Triunfo Biosphere Reserve in 1980. For more than 40 years he has dedicated himself to protecting the area, acting as a trusted mediator in times of conflict, assisting local communities in time of hardship, and guiding and inspiring generations of students and researchers.
Ismael's hard work and commitment to peace and cooperation have gained widespread respect among his colleagues, visitors, researchers and the communities of El Triunfo Biosphere Reserve.
Maria Bernadete Silva Barbosa - Awarded for inspirational service to marine protected area management.
After 35 years of dedicated work in Marinho dos Abrolhos National Park, Maria Bernadete Silva Barbosa has become a symbol for the promotion of marine conservation in Brazil. She has overcome personal tragedy to become a leader and inspiration in protecting, patrolling and monitoring the Park.
She also works with her team, with fishers, community members, children, researchers and visitors to understand, communicate and respect the values of the park. Her deep knowledge of the area has enabled early detection of new threats such as coral bleaching.
Her story and her achievements have earned immense local respect and national and international acclaim.
Biological Corridor 3 Ranger Team (10 members) - Awarded in recognition of major success in protecting tigers, other threatened species and their habitats.
Operating in remote and often dangerous territory, the Corridor 3 ranger team has demonstrated lasting and deep commitment to their work, taking pride in serving the community, conserving the natural environment, and protecting the tigers and other threatened species it supports.
They have contributed immensely towards minimising wildlife poaching, preventing illegal trade of wildlife products and mitigating human-wildlife conflict in the region, while also conducting exemplary monitoring and community education work.
Royal Belum State Park 'Menraq' Team - Awarded for exemplary achievements in community led conservation of tigers.
'Menraq' is a group formed to mobilise the Indigenous Jahai community to protect the Malayan Tiger. They patrol the remote and hazardous landscapes of the Park, using modern technology and traditional knowledge to monitor wildlife, collect evidence of illegal activities and deter poachers. The team has secured a voice in the management of the Park, building understanding between the Park management and their community.
Their dedication has led to an increase in tiger numbers in the Park and has been instrumental in Royal Belum State Park being awarded the Conservation Assured Tiger Standards (CATS) in March 2023, the first such site in Southeast Asia.
Desniansko-Starohutskyi National Nature Park Ranger Team - Awarded for exceptional dedication to conservation through peace-time and war.
For over 20 years, the women and men working in Desniansko-Starohutskyi National Nature Park have overcome challenging financial, material, social, legal and administrative challenges to achieve high levels of protection for the Park's biodiversity-rich wetlands and grasslands, a vital refuge for tens of thousands of migrating geese.
Team members continued to perform their duties with selfless dedication in the face of war. During a month of occupation, they established the Park as a humanitarian hub, helping local residents. Following liberation, they have resumed operations in the face of constant danger, of shelling of their park infrastructure and of new threats to the Park.
Tubbataha Reefs Natural Park Ranger Team - Awarded for dedicated service and commitment as marine rangers.
Based on a remote island in Tubbataha Reefs Natural Park, the ranger team, all local community members, lives in isolation for extended periods far from their families and from support. They have persevered in the face of COVID-19, personal problems, typhoons, injuries, sickness, and threats.
Alongside marine research and monitoring, and assisting and educating visitors, the team works tirelessly to intercept illegal fishers, and voluntarily assists in the education and rehabilitation of offenders. As a result of their work, initially resistant local communities have now been inspired to support the park.